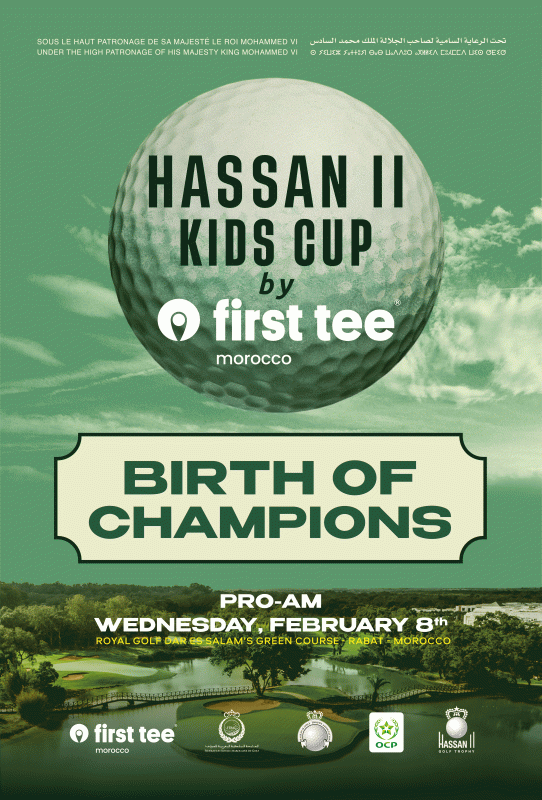 The "Pro-am Hassan II Kids Cup by First Tee" will take place on the green course on Wednesday, February 08 starting from 15:45. It will put young golfers from the First Tee Morocco program in the running with professional players from LET and professional players from the PGA Tour Champions.
9 teams of 2 children and 1 professional will challenge each other on 9 holes in Scramble format.
First Tee is very popular in the United States. It is a non-profit organization founded in 1997. It aims to transmit skills and life values through the practice of Golf. In 2019, the Royal Moroccan Golf Federation signed a partnership with First Tee USA enabling it to launch the "Chapter" Morocco under the label "First Tee Morocco". This project aims to transmit the values of this sport (ethics, rigor, sportsmanship and competition, team spirit …) that allow young people to be fulfilled and acquire bases that can be useful to them in their personal school careers. Today, 3 years after, more than 200 young people have successfully benefited from this program.
#
PROFESSIONAL
AMATEUR 1
AMATEUR 2
1st
ROB LABRITZ (-7)
ILYAS
ZOUBIR
ANWAR
BOUFOULLOUS
2nd
ROGER CHAPMAN (-7)
AYMAN
EL JABAL
ADAM
EL HMAYES
3rd
NASTASIA NADAUD (-5)
NISRINE
BOUSSOUN
RIM
TOUIJAR
HASSAN II KIDS CUP PRO AM by first tee
Tee
PROFESSIONAL
AMATEUR 1
AMATEUR 2
1
SANTIAGO LUNA
RAYAN
HICHAM
ANAS
AMZIANE
2
NASTASIA NADAUD
NISRINE
BOUSSOUN
RIM
TOUIJAR
3
CHRIS DIMARCO
ADAM
MAHFOUDI
MOHAMED
BAHAMMOU
4
BILLY ANDRADE
HAMZA
KATI
ABDERAHMAN
EL HALI
5
ROGER CHAPMAN
AYMANE
ELJABAL
ADAM
EL HMAYES
6
SANNA NUUTINEN
ROMAISSAE
LGHAJGHOUJ
OTHMANE
ZAARI
7
PAUL STANKOWSKI
RIHAB
MAZOZ
SALMA
EL HALI
8
ROB LABRITZ
ILYAS
ZOUBIR
ANWAR
BOUFOULLOUS
9
CHARLOTTE LIAUTIER
MARYEM
SMAILI
FATIMA ZAHRA
EL HALI